Sculpture By The Lakes
A visit to Sculpture By The Lakes
07/11/2012
Sculpture By The Lakes
is located at Pallington Lakes, near Dorchester. It brings together the landscape and beautifully sculpted creations by
Simon Gudgeon
.
I'd planned and arranged a visit about a week in advance, primarily for dry weather. Fortunately the weather did not let me down.
Beginning a journey around the lakes, the first thing that struck me was how the sculptures feel 'natural' in their surroundings.
With a well marked guide map you can stroll around at your leisure, there are paths, but there isn't a defined route so you can choose which way you venture. Visitor numbers are restricted to offer a truely inspirational and tranquil visit.
There are plenty of areas to sit and relax, taking in the scenic views, the inspiring works of art, and drink lots of tea!
Another thing that struck me is the dimensional range of the sculptures, 'ISIS' for example is 3 metres tall, 'REFLECTION' on the left is 150cm.
With the right light 'BARN OWL', above, almost comes to life.
Some sculptures are subtly hidden, blending in to the surroundings and becoming one. The 'WILLOW MAN' is one such piece.
There are three main lakes, 'North Lake', "Rainbow Lake' and 'Artist's Pool'. The two larger lakes have islands, that can be visited by rowing boat.
The stillness of the lakes offer stunning reflections, such as in 'ARTIST'S POOL' below.
Having read the 'Sculpture Guide' I was impressed by the inspiration into the creation of many of the sculptures, including the below 'THROTH' and 'BIRD OF HAPPINESS'.
Being around these art forms certainly left me in awe. Very powerful, but elegant.
I like the combination of the smooth curves, sharpness and the finishes.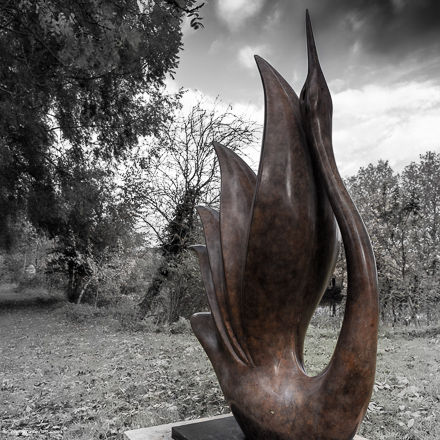 As a photographer, I was torn between capturing some of the sculptures from different compositions, and exploring completely. But one place you must absolutely explore is 'PIPPIN'S GARDEN'. This garden is a tribute to Pippin the lurcher, I'm sure she would have enjoyed lazing in it on a sunny afternoon.
I would highly recommend anyone to visit
Sculpture By The Lakes
, take a picnic, a flask...and enjoy.
Even reading through their website
sculpturebythelakes.co.uk
is a wonderful experience.
I can't wait to visit again as nature evolves, seasons change and new works appear.
Below are a few more images from the day.
All the titles for the images, on this page, reflect the actual names of the sculptures by
Simon Gudgeon
.